Dô-Sô Artist Residence
Fujiyoshida, Japan
January 2019
The 5 o'clock Melody
(Or Before everything burns)
***
We traveled to Fujiyoshida in search of winter and Mount Fuji (not to climb it, but to contemplate it). We arrived to
Dô-Sô Artist Residence
thanks to that margin of coincidences and unexpected events that this Google maps' world still allows.
Fujiyoshida
is a sleeping town beyond time. Streets are almost empty, as if all of a sudden they had to evacuate the city due to an earthquake alert that never occured.
The title of this exhibition was inspired by the
melancholic melody that plays everyday through the speakers
of all over the city, letting children know it is time to go home before it gets dark. During our research at Dô-sô residence, we learned that the original purpose of this melody, familiar to all japanese inhabitants, was to test, every day, the Disaster Communication System throughout all Japanese districts.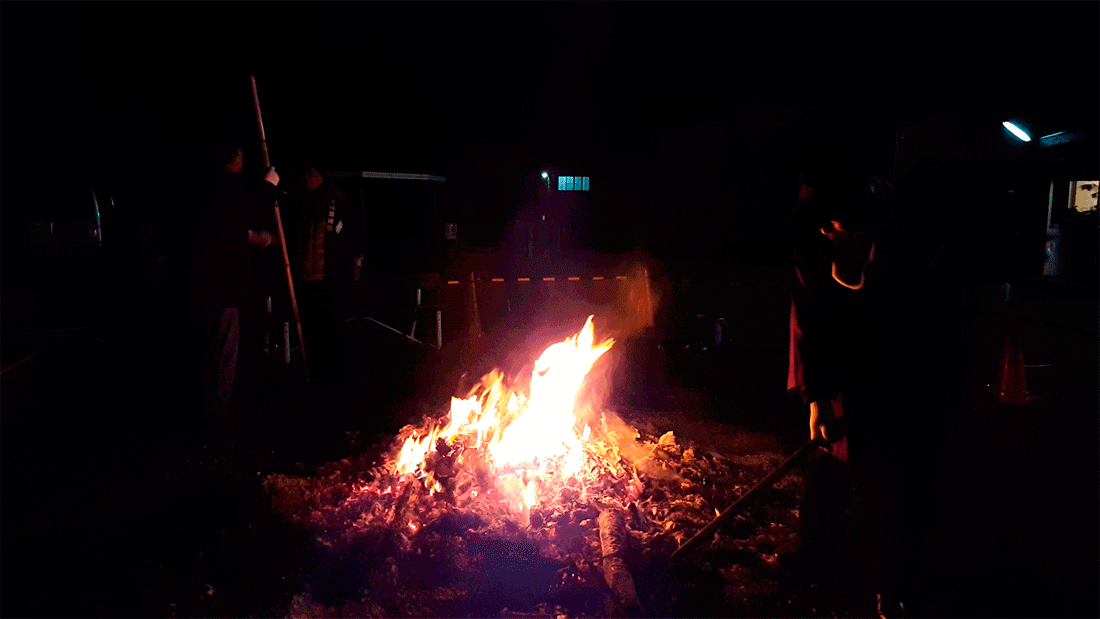 ***


The smell of winter, kerosene, wood and dust of the studio inspired us to work around memory and nostalgia. A narrative composition in space where temporal events could interweave and condensate, covered with images and history. To activate through the senses the involuntary memory of this asleep town. To return some kind of stability to an "I" threatened by dissociation, establishing and identity frame, a portrait. The temporal extension allows it to go back to itself. This return is a happy one. Where there's a scent, there's acknowledgement. Metaphors are the scent that emanates from things when they forge friendships.
A painting on paper, hanged near the kerosene stove, illuminated from behind by a warm light with an old and dirty lightbulb. The stove and the painting were at the entrance. Some spectators didn't visit the exhibition; instead, they prefered to stay warm by the fire, contemplating the painting, drinking warm sake. There, a communication took place, a shelter.
To access the exhibition, one had to climb a wooden staircase and go through a window corridor. The space we had inhabited during January was located there. For two days, it became a ghostly and sublime space, out of all boundaries: time, the old clocks, stopped at 5PM (moment when the night falls during winter). Everything recalled 5PM. By the window, a stove was warming a kettle filled with water. Water would sublimate on the window, revealing some drawings that dialogued with the cold and with the outer landscape.
We included a single video: two cellphones played on loop two walks recorded the same day, during the time the 5 o'clock melody resonated in Fujiyoshida.With each repetition, sounds started to challenge each other more and more, generating a disturbing yet familiar tune.
The place covered in darkness. A light would come and leave the room, representing a short loop of twilight, infinite twilights. If the spectators traversed the shadows thoroughly, they could encounter objects of time. Small whispering pieces we had created using old newspapers that wrapped ancient vessels and dusty objects we found inside a storage room in the studio, or on the streets. The elements were linked by intuition and imagination, with an inclination towards the affective.
In a corner, the brightness and sound of a television tunned on a 60's Geko Kamen's show -a character that resembled a Futurist Japanese Zorro. There was no way to enter completely into that corner; the only possibility available was to lurk its intimacy and gather a partial impression of what was going on. Between the spectator and the work, there was a veil. Cut-outs from newspapers of events already passed and people who, most likely, are dead by now. A disturbing nostalgia. A fantasy space quite similar to day-to-day life.